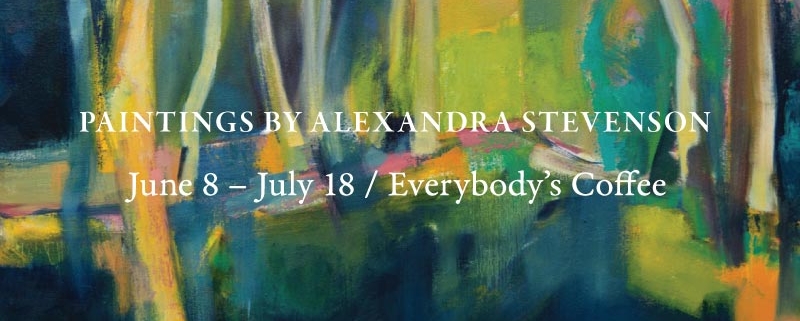 New Art Show: "City in a Garden," paintings by Alexandra Stevenson
Chicago's motto is urbs in horto, meaning city in a garden. After a long cold spring Everybody's Coffee welcomes "City in a Garden," its latest art exhibit, June 8–July 18, paintings by local Ravenswood artist Alexandra Stevenson.
A vibrant color palette is inspired by Chicago's many parks and gardens. Even in a dense city, there are pockets of green, pop-up flower beds, window boxes crowned with fuchsia, golden yellow, periwinkle, and heliotrope purples. "The paintings are a product of daily observation—the view from the El train platform, from my third-floor window, along the North Branch trail, walks along the lake and river." Ms. Stevenson's paintings reveal a side of the city teeming with color and life. Between narrow rectangles and rooftop triangles, we get a glimpse of a City in a Garden.
You can find out more about Alexandra at her website: http://astevensonart.com/
City in a Garden opens Friday, June 8, opening reception is 6 – 8 pm, and runs through July 18. Everybody's Coffee is located at 935 W. Wilson, Chicago, Illinois. Come revel in the delights of our city in a garden.