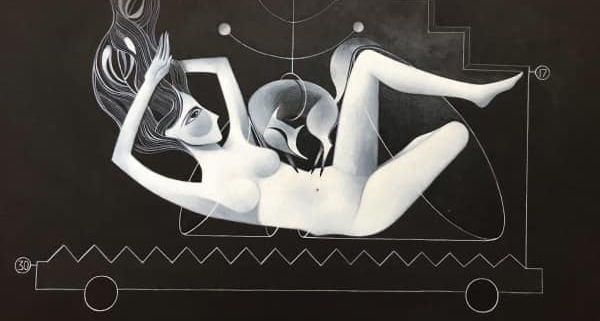 Untold Tales
Pen & Ink, acrylics by Haleh Darabi
Opening reception: Friday, July 26, 6 – 8 PM
Exhibition: July 26 – September 2
Everybody's Coffee, 935 W. Wilson, Chicago, IL
Media contact: Jane Hertenstein 773-454-4887
Am I dreaming or dreaming of dreaming? I hide behind a mask, a veil. We are a tangle of untold tales, as much a mystery to others as to our self. In "Untold Tales," Iranian artist Haleh Darabi explores the hidden side, the parts we are afraid to show the world. Everybody's Coffee is thrilled to present its latest art exhibit, Untold Tales, July 26 – September 2, with an opening reception, Friday, July 26.
"You know, in Iran I wouldn't be able to have this show," she says. "Daily lives are confined to a certain predictability. We have to wear a face." Her delicate pen and ink drawings on blackboard, filled in with shades of white acrylics, tells a story. Women balancing, floating, strategizing in order to navigate a complex world. In her drawings, we recognize the mother, aunt, sister, friend, multi-layered inhabiting many lives, many mysteries.
In Tehran, Haleh showed an early interest in art, actually refusing to go to school unless her mother sent her to a high school for the arts. After graduating from the University of Tehran, College of Fine Arts, she interned for a teen magazine. Five years later she was the art director. Next she moved onto children's publishing, working as an illustrator for 40 books. Since coming to Chicago she has taken a different direction with her art—as if turning the pages in a photo album, she revisits memories, the familiar, from a new perspective.
Please join us for this special exhibit, "Untold Tales" from artist Haleh Darabi at Everybody's Coffee, 935 W. Wilson, Chicago, July 26 – September 2, opening reception Friday, July 26.