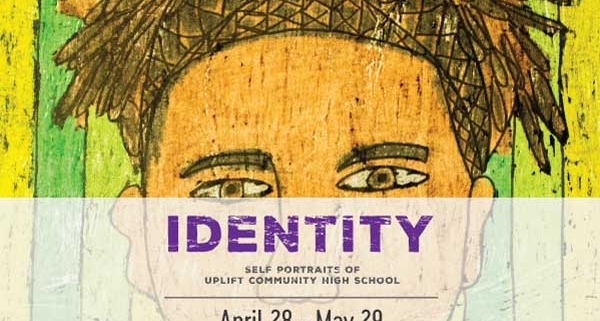 Self-Portraits by select students of Uplift Community High School in Uptown, Chicago, with art instructor Catina Robinson
Opening Reception, Friday April 26, 6 – 8 PM
Exhibition: April 26 – May 29
Everybody's Coffee, 935 W. Wilson, Chicago, IL
Who are we? Social media tells us one thing. Teachers, parents, and friends say something else. Every day we are defining who we are.
What is portraiture? It's choice. It's the ability to position your body in the world for the world to celebrate you on your own terms. –Kehinde Wiley
Art history has shown that self-portraiture has been a practice many artists have explored for centuries. In our current times, the "selfie" could be viewed as a version of a self-portrait. These young artists have put down their cell phones to explore different art mediums and techniques such as scratch-board, collage, acrylics and mixed-media. With some contemporary influences to guide their work, various styles such as naturalistic representation, ornate contemporary, and abstract expressionism will be on display.
Catina Robinson has been teaching Art in the city of Chicago for the past 20 years. She earned her BFA in Secondary Art Education from University of Illinois at Chicago. She began her teaching career with CPS at Austin Community High School. Before joining the staff at Uplift Community High School she taught at Roberto Clemente High School.
As an artist, Robinson enjoys working in a wide range of mediums. Her primary focus has been mixed media collages, abstract oil paintings, and photography. During the summers Robinson has been able to refresh her art practice through different Artist Residencies such as Oxbow School of Art and the Educator Micro- Residency at U of I at Urbana-Champaign
from left to right.
"Art is a part of my life because it expresses how I feel and it has always brought out the most creative side of me. I want my portraits to reveal my pain, my anxiety and PTSD."-Robin Adams, 12th Grade
"My portraits reveal that I am energetic. I look at making artwork as a kind of stress reliever. Through art, I can show how I feel without actually saying it." -Taijay Brown, 11th Grade
"Art is a part of everything in my life. Any art piece that I do reveals my mood at that very moment."-Nevayah Terrell, 11th Grade
-Catina Robinson, Art Teacher
"I want my artwork to be inspirational to other African Americans like myself. My portraits reveal the part of me that is humble and quiet on the outside. Art makes me who I am today."-Joseph Perry, 12th Grade
-James Calhoun