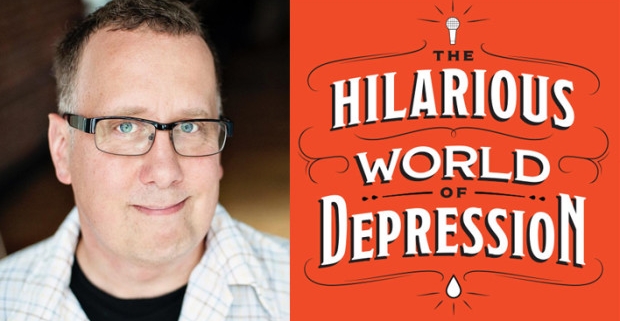 The Book Cellar presents John Moe, author of The Hilarious World of Depression, with special guest Peter Sagal!!
Critically acclaimed radio personality and the creator of the hit podcast The Hilarious World of Depression John Moe is coming to Everybody's Coffee to discuss his new book by the same name. He will be joined in conversation by Chicago's own public radio legend Peter Sagal.
All questions about this event should be directed to The Book Cellar itself: (773) 293-2665, words@bookcellarinc.com
GET TICKETS HERE!
All tickets include a copy of John's book and an invitation to meet John and have him sign it after the event.
For years, John Moe, a critically-acclaimed public radio personality, struggled with depression. It plagued his family and claimed the life of his brother in 2007. As he faced his own illness, he began to see similar behavior patterns and coping mechanisms in his conversations with others. Recognizing the tremendous comfort and community in talking about these experiences, and that humor had a unique power, he launched "The Hilarious World of Depression" podcast, which has had more than 10 million downloads.
The Hilarious World of Depression is a memoir of Moes's own journey, revealing more than he's ever discussed on the podcast, in addition to the above-mentioned stories from a range of comics, musicians, writers, and performers.
"I was inspired by the illness that Id carried around most of my life," Moe says, "and how society has insisted we keep quiet about it, even though not being quiet is one of the best things we can do. I wrote the book to tell people that they're not alone, it can get better, and we can even have some laughs on the way."
John Moe is the host and creator of the award-winning hit podcast, "The Hilarious World of Depression" and the author of three books: Dear Luke, We Need To Talk, Darth; The Deleted Emails Of Hillary Clinton; and Conservatize Me. His writing has appeared in numerous humor anthologies as well as The New York Times Magazine, McSweeney's, The Seattle Times, and many more publications, and he's written plays that have been performed on three continents.
John has hosted nationally distributed public radio programs such as "Wits," "Weekend America," and "Marketplace Tech" and his radio work has been featured on "Marketplace," "All Things Considered," and "Morning Edition." He lives in St Paul.
About Peter Sagal: Peter Sagal is the host of the Peabody Award-winning NPRTM news quiz "Wait Wait . . . Don't Tell Me!" and the author of The Book of Vice: Naughty Things and How To Do Them and The Incomplete Book of Running. He is a playwright, screenwriter, an amateur athlete, and host of several podcasts and documentaries, including "The Chernobyl Podcast" from HBO and "Constitution USA with Peter Sagal" on PBS. Sagal lives in the Chicago area with his wife Mara and two dogs, DeeDee and Dutchie, who like to see their names in print.
Event date:
Tuesday, May 12, 2020 – 7:00pm
Event address:
Everybody's Coffee
935 W Wilson Ave