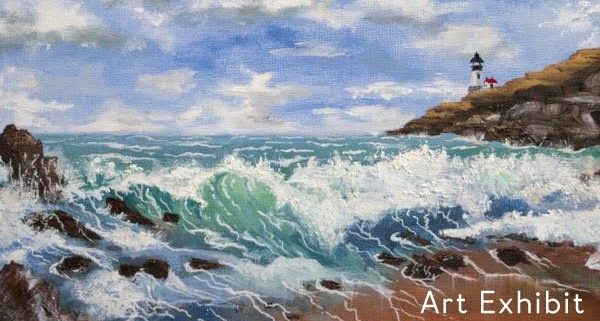 April 6-May 2
935 W. Wilson Ave.
Opening Reception: April 6, 6-8 pm. FREE
Find yourself in a vanishing point, walk down a road into a landscape created by Everybody's barista Joe Andrews. Everybody's Coffee, located in Uptown Chicago, is proud to host an art show for one of its own! Joe brings a transcendent luminosity to his oil painting that helps us to see the sun breaking through the clouds or moonlight reflected off still water.
This show represents five years of work. "As a kid I wanted to be a painter, but, along the way, forgot." Self-taught, Joe, in mid-life, picked up the challenge. Through the years he's contributed to group shows and sold well. "I want to go there," is something Joe is used to hearing viewers say about his paintings. His work leads you inside, down a lonely road, into a forgotten forest or along the banks of a bubbling stream. There are elements of fantasy to the pieces.
Come see for yourself—we'll take you there! Everybody's Coffee is at 935 W. Wilson, Chicago. The opening reception is Friday, April 6, 6–8 pm. Vanish inside.