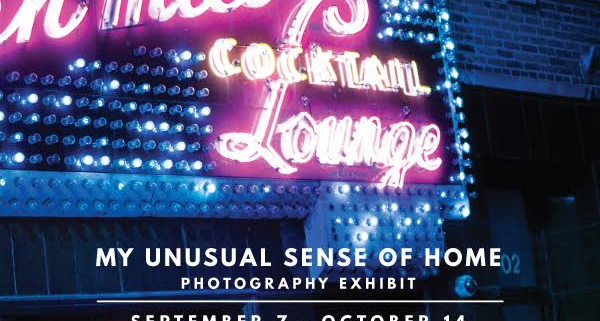 Uptown—it's the kind of place you can't forget.
For many of us, we try to leave it, yet the neighborhood stays with us. It's not like any place else. Mike Rivera knows this all too well. He has shot photos all over the world but keeps coming home.
This will be Everybody's Coffee second show with Uptown photographer and mover & doer, Mike Rivera and Nohumansaround. Everybody's walls will be wrapped with these monumental photos.
Though Mike loves shooting portraits and capturing street life, he has chosen to go in a different direction and focus his camera on solitary figures set in oblique landscapes. He re-casts familiar landmarks of Uptown by adding filters, overlays of color to give them an "alien" appearance so that the viewer might see Uptown in a new light, from another perspective. In contrast to the busy sidewalk scenes of Vivian Meir and other street photographers, Rivera has isolated the human in the photo. For just that moment—before the city awakens, before the sun comes up before the crowds descend, one can get a sense of solitude. T. S. Elliot in Four Quartets wrote about a still point in a turning world—aesthetically Mike Rivera has captured that moment of still point, where we can fix our mind and thoughts: find a center.
Mike grew up in Dallas, Texas where he briefly attended college. There he discovered his passion for dynamic photography. He eventually received his bachelor's in Visual Journalism from Western Kentucky University. Since then he has worked in New York City, Japan, and southeast Texas. After moving to Chicago four years ago he has worked in the photo department of the Chicago Tribune and as the in-house photographer/videographer for CEDARst/FLATS. He continues to shoot assignments as well as art endeavors all over the country. You can see more of his work at http://mikeriveraphoto.com/ and on Instagram at @nohumansaround.
An Opening reception is scheduled for Friday, September 7 at 6:00. The show runs from September 7 – October 15. Everybody's Coffee is located at 935. W. Wilson, Chicago.