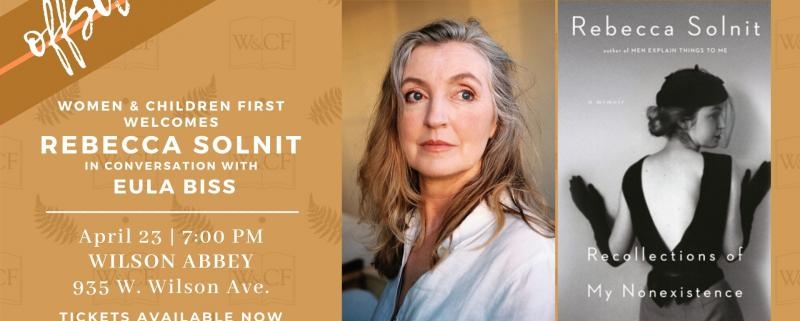 Join Women & Children First for an author conversation, audience Q&A, and book signing with Rebecca Solnit.
For this event, Solnit will be in conversation with Eula Biss.
Each ticket includes a copy of Solnit's forthcoming memoir, Recollections of My Nonexistence. Tickets are ONLY available online through Brown Paper Tickets. This event will be held at Wilson Abbey (935 W. Wilson).
All questions about the event should be directed to Women & Children First: 773.769.9299, wcfbooks@gmail.com
ABOUT THE BOOK
In Recollections of My Nonexistence, Rebecca Solnit describes her formation as a writer and as a feminist in 1980s San Francisco, in an atmosphere of gender violence on the street and throughout society and the exclusion of women from cultural arenas. She tells of being poor, hopeful, and adrift in the city that became her great teacher; of the small apartment that, when she was nineteen, became the home in which she transformed herself; of how punk rock gave form and voice to her own fury and explosive energy.
Solnit recounts how she came to recognize the epidemic of violence against women around her, the street harassment that unsettled her, the trauma that changed her, and the authority figures who routinely disdained and disbelieved girls and women, including her. Looking back, she sees all these as consequences of the voicelessness that was and still is the ordinary condition of women, and how she contended with that while becoming a writer and a public voice for women's rights.
She explores the forces that liberated her as a person and as a writer—books themselves, the gay men around her who offered other visions of what gender, family, and joy could be, and her eventual arrival in the spacious landscapes and overlooked conflicts of the American West. These influences taught her how to write in the way she has ever since, and gave her a voice that has resonated with and empowered many others.
ABOUT THE AUTHORS
Rebecca Solnit is the author of more than twenty books, including A Field Guide to Getting Lost, The Faraway Nearby, A Paradise Built in Hell, River of Shadows, and Wanderlust: A History of Walking. She is also the author of Men Explain Things to Me and many essays on feminism, activism and social change, hope, and the climate crisis. A product of the California public education system from kindergarten to graduate school, she is a regular contributor to the Guardian and Lit Hub.
Eula Biss is the author, most recently, of On Immunity: An Inoculation, which was named one of the 10 Best Books of 2014 by the New York Times Book Review. Her second book, Notes from No Man's Land: American Essays, won the National Book Critics Circle Award for criticism in 2010. Her first book, The Balloonists, was published by Hanging Loose Press in 2002. Her writing has been supported by a Guggenheim Fellowship, a Howard Foundation Fellowship, an NEA Literature Fellowship, and a Jaffe Writers' Award. She holds a B.A. in nonfiction writing from Hampshire College and a M.F.A. in nonfiction writing from the University of Iowa. Her essays have recently appeared in The Believer, Harper's, and The New York Times Magazine.
This event is co-sponsored by Resilience Chicago. Resilience is the largest sexual violence service provider in Chicagoland.
Tickets are non-refundable. If you purchase a ticket and then do not attend the event, you will have 30 days to pick up your copy of RECOLLECTIONS OF MY NONEXISTENCE at Women & Children First (5233 N. Clark St.)
Event date:
Thursday, April 23, 2020 – 

7:00pm

 to 

9:00pm
Event address:
Wilson Abbey – Everybody's Coffee
935 W. Wilson Ave.