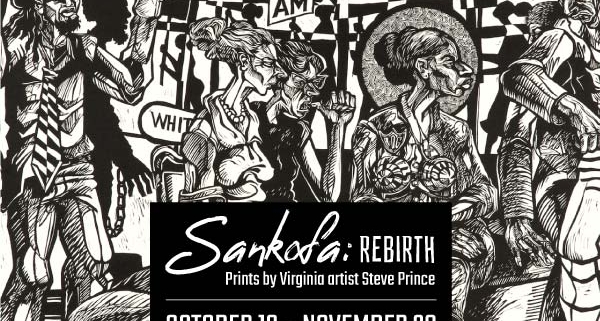 Buy Gabapentin 300mg uk, Can you buy Neurontin over counter
looking backward to move forward
Prints by Virginia artist Steve Prince
Opening reception: Friday, October 19, 6 – 8 PM
October 10 – November 28
Everybody's Coffee, 935 W. Wilson, Chicago, IL
Media contact: Jane Hertenstein 773-454-4887
Steve Prince had been described as an art evangelist. Together with his wall-size prints, he brings his message to the streets of Uptown. Everybody's Coffee announces its next exhibit SANKOFA: REBIRTH, October 19 through November 28.
The works are big, meant to be engaged with. "Communal Resurrection" is 4 feet tall and 40 feet long. Prince used 5-by-8 foot sheets of plywood as printing blocks that were inked and pressed into paper with a commercial steamroller—the kind used to smooth asphalt. Sankofa is a West African phrase meaning go back and get. It is about a journey toward knowledge, a look backward while moving forward, recognizing the past and at the same time hope for the future. History is evident in the themes represented in Prince's art.
"The African American experience is my life, it is who I am. I am a descendent of slaves, but I also share the spirit of the African turned American. As an African American I have felt the constricting tentacles of slavery upon my people and I have dedicated my art to address those issues with the hope of continuing the struggle against inequality wherever it rears its ugly head. I am interested in showing Black love, creativity, imagination, and cultural rhythms that have shaped this planet in spite of the conditions that tried to erase our humanity and culture toward conformity and assimilation."
The pieces in the exhibit are Linoleum Cuts, Woodcuts, and Lithographs. Steve first encountered the art of printmaking while an undergrad at Xavier University of Louisiana where he studied under the direction and tutelage of John Scott. Prince utilizes a design mechanism called "dense-pack" where he forces the viewer to encounter several things all at once, causing them to sift through the image like an archeologist to extract meaning and make sense of the controlled chaos. The art is meant to be viewed multiple times and meditated upon.
An opening reception is scheduled for Friday, October 19, 6 – 8 PM. SANKOFA: REBIRTH runs through November 28. Everybody's Coffee is at 935 W. Wilson, Chicago.
Artist Steve A. Prince is a native of New Orleans, Louisiana, and he currently resides in Williamsburg, Virginia. Prince received his BFA from Xavier University of Louisiana and his MFA in Printmaking and Sculpture from Michigan State University. He is currently the Director of Engagement and Distinguished Artist in Residence at the Muscarelle Museum of Art at the College of William and Mary. His work has recently been shown at ArtPrize in Grand Rapids. More information and images can be found at his gallery website: purchase Neurontin
Check out this purchase gabapentin 300 mg with Steve Prince!!